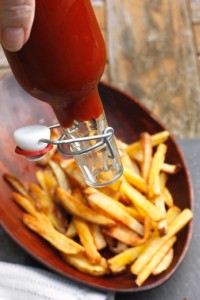 I'm not good at waiting for life to happen.  I remember the Heinz commercial from the late 1970's with Carly Simon's "Anticipation" playing in the background while the french fries patiently waited for the ketchup…and sometimes feel that this is my life.  By nature, I'm spontaneous and sometimes, impulsive.  I've grown up well as a generation X'er who has never been good at waiting to open gifts, have fun or wait for it.  If I was a puppy, I'd probably fail training. Not because I'm not the smartest breed…but because I'd be running to the next thing.  "Let's go people!" would be my mantra… It isn't for lack of trying.  So, Oprah is giving me a lesson in patience this summer…as I patiently wait to have lunch with her in October.
So, waiting for lunch with Oprah is a little like the butterflies you get before a first date…and if it's a good first date, you get them before your second date too.  This would be our second date with Oprah.  The first was in New York City where it didn't matter what I did to my hair, the humidity had different plans.  Let's just say, I left there knowing I needed a second picture, better hair and an opportunity to not let the "Oprah Effect" take over my mind and leave me paralized (Here's the story of my first meeting…if you ever meet Oprah, this could be you!).  Less than six months later, I'm getting that "do-over" and in an amazing way.   Lunch with Oprah …yes lunch, so that means witty banter and clever conversation.  Not too much pressure since I'll be with a handful or two of some amazing friends who will be there sharing the moment.  "Who does this?" I keep asking myself, not completely believing my life and what is happening.  But it is happening.  Lunch with Oprah.  And I kinda hope Gayle is there too…because Gayle is our girl and our OYou angel and someone who makes me want to be a better me.  
And while I wait for it…and learn the basics of patience that was taught to me via the puppy class that I took my only trained dog to years ago… I still hear the Carly Simon music.  And I still have the conversation starting with, "Who does this?" 
Oprah. Lunch. October. The Daily OWN.  After…we'll tell you all about it.  For now, you are the french fries just like us…and you have to wait for it.
Photo credit: Local Kitchen Blog