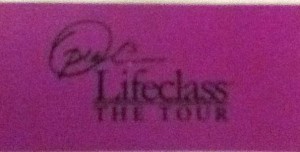 With weeks of prep and planning for our NYC Lifeclass adventure, there was a little surprise that came as a gift just days before…a note that said, "Good News…You are going to meet Oprah!"  This wasn't a dream or a fortune cookie premonition that I often believe and carry around waiting for it to come true.  This was from someone at Harpo…at OWN…the real deal…and it was happening.To say that I have a problem setting goals is not really accurate.  Apparently, I have problems setting them high enough.  At the beginning of 2012, I put on my list – set personal goals and set goals for The Daily OWN.  For weeks, I danced around the task.  Getting it done took about 6 weeks and occurred reluctantly at a Starbucks late in February when during a heart to heart, my sister and I realized that this had been put off too long.  So as we tried to dream big over our inspirational Venti iced tea, we focused and got to work.  "Meet Oprah" was our BIG goal and we had no idea how we were going to make it come true…but we we're aiming high!  When we put it on the list and put it out into the world, we never could have imagined that it would literally take days to accomplish.  I mean really…who meets Oprah?  Seriously?  Well…we do…and we did.  This act of the universe reaffirmed two things for me:
God has great plans for me…and
I need to learn to dream bigger than Oprah.
Now, what does "bigger than Oprah" mean?  As I write, I sit on a small airplane seat just less than 12 hours since I stood by Oprah and held her hands.  Surreal is not the word.  I didn't cry then…but I've found it all a little hard to process and the tears have swelled up in my eyes many times since then.  All while my mind tries to process this:  WHAT. JUST. HAPPENED?
The night before our "big O-meet-up," we had dinner and connected with kindred spirits from Twitter.  When I say connected…I mean more than just sharing focaccia bread and a toast at Chef Art Smith and Lady Gaga's mother's restaurant Joanne's in NYC.  I mean CONNECTED…but I will go into that in a later post over the next few days.  (It's like a wave of JOY that both my sister and I feel flooding us…and we can't wait to tell you about it and share!)  During the dinner, we met Megan Castran (aka @JewelChic – you MUST follow her!)…joyful and sparkly from the inside out!  She was just beaming of joy!  Seriously.  She told us of her adventures of meeting Oprah and I listened, looking for anything that I might use the following day.  She is who I heard as I stood next in line at the VIP photo area. "Stay in the moment…take it all in…be present."  She was actually IN THE LINE a few people behind me…so she very well could have been channeling me her energy or shouting it to me.  I don't know.  I was next in line to meet Oprah and the whole world kindof went quiet.
So, as I stepped up to the front of the line after hundreds that came before me for their own moment with O, and when Oprah looked over, I said a little prayer.  "God, give the me words to say, work through me to say what I want for her to hear…and please, let me be in the moment." I remember gliding…someone took my purse…they could have it, I didn't care.  Oprah was waiting for me.  My sister was behind me somewhere but I had to go…Oprah was waiting.  "We're the Daily OWN and I'm Paula and that's Patricia."  (I should have said, "we blog on your network…" but I probably should have smiled and looked at the camera too, which I don't think I did!)  With both of my hands in hers, I said, "We want to help you get the message out about OWN…" and I remember her looking into my eyes with her hands still in mine and saying, "You already are…" like her favorite line from the Wizard of Oz…"You always had the power…" except she was saying, "You already are."
Somewhere in there, a photo was taken, my feet moved me across the room and I let go of her hands…somewhere.  I don't remember looking at the camera.  I don't remember seeing anything.  If this was me "in the moment," it was an out of body experience moment…and I always thought that I was so much cooler than that…So now I realize, I need to find some bigger goals.  The next one on my list is to meet Oprah again and take another photo…because seriously, I'm a little worried about this one and I'm sure that next time, I can do much better!  At the rate my goals are coming true and being checked off my list, that means Oprah, you should be seeing me by summer!