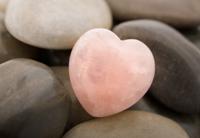 As OWN programming takes us deeper and deeper into finding a voice,  it's doing something to my OWN life.  Like a spiritual awakening of sorts, Oprah's Lifeclass has me looking deeper…Rosie's nightly "class" has me relaxing and laughing…and Super Soul Sunday has me realizing that LIFE is AMAZING and that I just need to open my eyes.
So, as I woke up this morning after hitting the snooze button 3 times (God, how I love "snooze"), I started thinking about how wonderful it would be for the Oprah Winfrey Network to take this 40-something (OWNing my age!) and everyone else on an "Eat,Pray,Love" journey on OWN.  Indulge me and my diet on white truffle pizza or crazy amazing anything.  Calm my chackras with a spiritual journey, a chant and a guru or two.  Fill my heart with finding LOVE for myself, for life and for everything around me in this world.  Doesn't this sound crazy AMAZING? 
If you are listening Oprah…find me a guide.  Take me along.    My bags are packed…I'm ready to go…when do we leave?