Last Sunday, I wrote down these personal OYou! lessons that I learned from the day…and that I wanted to remember for next year's OYou.  They really have nothing to do with all of the amazing information gained, but more to do with my tired feet.  Still, I thought I'd share how my tired mind works along with some photos.  (Brody, these photos are for you!)  Here are my tired feet lessons…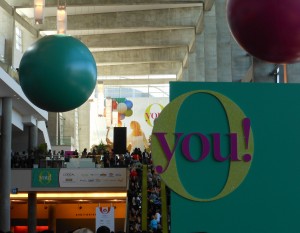 Flip flops are a foots best friend especially after so much walking around.  OYou! 2012 – Living Your Best Life in Flip Flops!  I see it already…  I'm pretty sure that I could sell it to Adam Glassman… it is possible to live your best life in flip flops…or at least put them into your bag and give your feet the gift when you need to.
If I had a wig, I cam pretty sure that every once in awhile I'd have a good hair day and it wouldn't get "all flat or frizzy" from the southern humidity.
It doesn't matter how long you prepare for a big event, you still never have enough time to lose enough weight, find the right outfit or figure out the questions to ask…so just do your best and go with it.
Eat a little something – even if you are too excited to eat – because coffee doesn't sit well on an empty stomach.
People are people and real authentic people make you feel like your own real authentic true self. 
Smile. Breathe. Just be you.