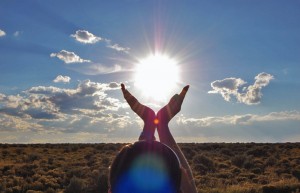 With O Magazine's OYou conference inspiring us to celebrate and live our best life, we decided to make the commitment to go through our second OYou Boot Camp Challenge and to bring you along for the ride.  Last summer, we spent eleven weeks moving through weekly areas that the conference brought into focus and trying to get to know the speakers just a little better.  This year, we are taking the journey to a new level.  After spending the last year living the lessons of O Magazine and Oprah's Lifeclass and putting them into place in our own lives, we thought that this OYou Boot Camp should raise the bar a little higher and dig a little deeper.  So with OYou 2012 and a special luncheon with Oprah on the horizon for October, we will be putting ourselves through a twelve week "mind, body and spirit" challenge and telling you all about it here at The Daily OWN.
Here is our challenge. Starting this next Monday, for the next twelve weeks, we will be taking ONE of the O Magazine, OYou and Oprah topics and focusing on their teachings for one week. We will be searching for lessons to share and doing the work in our own lives and telling you all about the journey here at the Daily OWN. Each Monday morning, we will outline our simple 3-step action plan for the week. During the week, we will take you on our journey. Here is our boot camp schedule for 2012:
O You Boot Camp Weeks
Week 1 (July 29) – Finding You: The Search for Your Best Life
Week 2 (August 5) – Fitness Week: Get Moving, No Excuses 
Week 3 (Aug 12) – Organizing Your Life
Week 4 (Aug 19) – Beauty Inside and Out
Week 5 (Aug 26) – Healthy You, Healthy Life
Week 6 (Sep 2) – Design on a Budget
Week 7 (Sept 9) – Hope and Finances
Week 8 (Sept 16) – Fashionable You
Week 9 (Sept 23) – Authentically You (Gayle King inspired)
Week 10 (Sept 30) –  Unleashing Your Gratitude Circle (Oprah inspired) 
Week 11 (Oct 7) – Your Energy Community
Week 12 (Oct 14) – Wrap up, Recap & Get Ready!
OYou in Los Angeles (Oct 20)
Check back on our progress…we'll be posting daily from O You Boot Camp. Whether you want to JOIN IN and go through your OWN O You Boot Camp challenge or simply come back for the lessons and tips, we would love the company! Get ready…it's time to change a life!