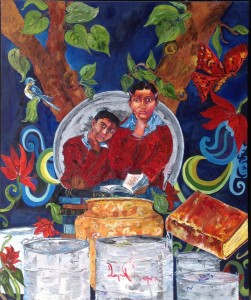 It's easy to see the extraordinary when there is so much love and light around a person.
Last week, our friend and fellow OWN Ambassador's amazing painting created for the charity, Akshaya Patra, captured the hearts of many and a $50,000 donation from more than one bidder.  And in a roundabout way…all on a journey that included a lunch stop with Oprah, the attention of Deepak Chopra and tweets for OWN.
When we met artist and woman extraordinaire, Malika Garret, friendship came so easy and she seemed to be born with that extraordinary kind of light and energy around her that brought with it an instant connection.  So, when we heard of this latest story about her and her amazing artwork, it came as no surprise of the great kindness and gifts that she has to offer the world.  But what we did find interesting is that it all came with a little nudge from a great Oprah Lifeclass teacher and an eye opening experience of validation and service.
"In December," Malika said, "When contacting Dr. Chopra about a different project, he mentioned that he would be traveling to Atlanta for an Akshaya Patra (AP) fundraiser event." With the little nudge in this direction, he sent her the link to their website and there Malika says, "before I knew it I was firmly on board the AP train and my life changed forever."  Malika offered to do an original painting as a donation to the AP Foundation Fundraiser and asked if Dr. Chopra would collaborate on this piece and sign it.  As Malika tells it, "His enthusiastic response was, "Of course.""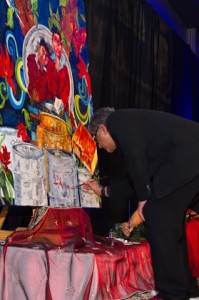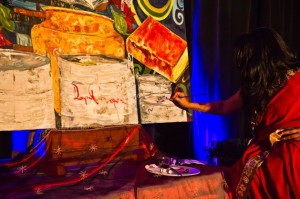 As it so happens, during this journey, Malika traveled to India for a scheduled family visit and was able to experience firsthand the difference that the work of the charity was doing.   After spending a day with those who prepared the meals and then handing them out at a nearby school, Malika took in the lessons.  "What struck me most besides the pristine cleanliness of the facilities was the unspoken discipline and grace of the whole process," Malika shared.  "Everything operated like clockwork and each volunteer and worker approached their duties with a sense of deep reverence and offering."  Malika said that what she realized during her visit was that AP was doing more than just providing daily hot meals, they were shaping and changing the lives of these children by making sure that they knew that they mattered and that they were worthy of a hot meal.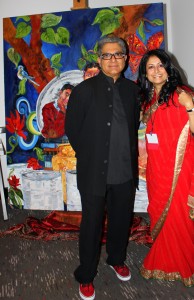 Her journey and visit came through on the canvas, as she created a piece of artwork for the fundraiser.  As Malika said eloquently, the "visit captured my consciousness and filled my heart with indelible images that inspired the painting I created."  But her work does a little more than that…it offers lessons to all of us as we move through our lives.  Here are the ones that I encourage you all to look out for.
–       You never know when and where your life will change. Be open to the little nudges that may push you in different directions.  It just may take you exactly where you need to travel.
–       The world speaks to us all to validate our gifts.  Malika is an amazing artist. Embrace your talents – whatever they are.  They are there for a reason. Don't ask why they are your talents; ask what you can do with them to make the world a better place.
–       When you don't know what you have to give, know that YOU are the most valuable thing you have to offer.  You are enough.
–       Open your heart and let the love and energy from the world fill you up. Because it's when your own open heart overflows that you realize how capable you are of changing the world and making it better because you are here.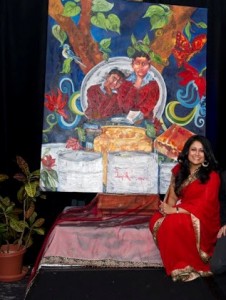 Malika is one of the kindest, most genuine people that we have met on this journey. Her artwork captures this beauty of her spirit and through the vision of her heart, what she sees in the world.  It is no wonder that Deepak Chopra connected with her and her spirit or that her painting donation will help AP change the lives of so many.  She is love and light and it shows up radiantly on canvas.
***
For more information on Malika's art, visit her website.
For more information on Akshaya Patra, visit their website.