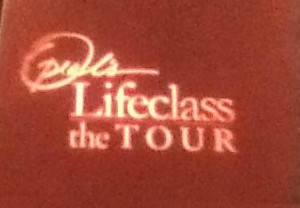 With Oprah's Lifeclass the Tour coming to a close last night on OWN, it was another example that each and every moment can bring something into your life that will forever change it.  During this second season of Lifeclass, new teachers joined the stage and new energy filled our notebooks.  Each session brought wisdom and perspective on life and all of it's possibilities.  And this season brought something a little more to these Daily OWN sisters…it's brought spiritual connections and friendships that we can't even begin to describe the honor that we feel from them.  From our beautiful Cathy that we stood in line with in the NYC rain, to the PCP soul sisters we met along the way and to all of the OWN Ambassadors and OWN family members who have come together from all over the world and have made a connection grounded in Oprah and gratitude.  These are the unexpected gifts that Oprah's Lifeclass the Tour has given us…along with some amazing lessons.  While the list below are just some of the lessons that spoke deeply to us, we encourage each and every one of you to find your Lifeclass lessons and take them out into your world. They will change your life…and you, in turn, will change the world.  Here are ten of our favorite lessons from the Tour.
When you live in the space of an open heart, you have a blessed life. – Oprah
People are gifts. Appreciate them accordingly.
Live in the space of gratitude because it changes everything.
You have the ability to change your story and change your life.
What you focus on in your life is what will grow in your life. If you want good things, focus on the good stuff.
When your universe starts speaking to you, start listening to it and be ready for whatever it brings.
Everyone's purpose is to help, inspire and make the world a better place. This is why we are all here.
When you fill up your cup, everything inside of it is for you.  Everything that spills over is for everyone else.
Movement trumps emotions.  MOVE and it will change your life. Change your movements in the world and you will change how you feel about it…your self-confidence…your life…everything.
You can make the difference in anyone's life. Know this. YOU can change their world. YOU have that power.