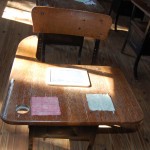 As Oprah opens up the doors to her classroom again, she reminds us that there is a little something for everyone in the lessons that she has to share.  Kicking off this Lifeclass tour from The Peabody Opera House in Downtown St. Louis, Oprah steps fearlessly out into a Live broadcast to the world…and into familiar shoes.  For the next six Monday nights, class will be in session as Oprah brings in new teachers and new lessons.  Each night, the class will be televised LIVE around the world on Oprah.com and Facebook along with OWN.   This two hour class each week provides time to soak up the lessons and let them sink in to get you ready for the next.  For those ambitious students, Oprah.com also offers a little "Lifework" to go with the class.  So, as we enter the classroom thankful and full of appreciation, Oprah takes the stage…and our notebooks open…ready.  Here are our class notes…
With just a little fun recap…As Oprah opens the class, she tells us that her purpose "was not just being on TV but using TV as a greater purpose."  She goes on to say "my desire, along with my partners at Discovery, is…open up the heart strings to you."  She wants televsion to be meaningful and to fill you up…instead of stealing your time and leaving you with nothing.  Her vision for OWN is to bring to the world TV that moves you.  TV that makes you think.  TV that doesn't waste your time.  Lifeclass is the purest vision of this desire and as we open up our hearts for the lessons, we are given the opportunity to change our lives and in turn, change the world.   "What I want is for this to be an interactive, social media, fun experience," Oprah tells us.  "It's all about us living our best lives."
Starting off class, Oprah makes a surprise visit to Sweetie Pies with best friend and our OYou angel, Gayle King, in tow to try out all this great food that we keep hearing about.  Oprah tells Gayle, "I've never met them before," and as shocked as Gayle sounds, it's true.  Oprah's only met them as we have, on screen and through their OWN program. After eating a little fried chicken and pear cobbler, we get on Twitter, "Oh lawd…that's really good."  So, don't come hungry…but take some time and tune-in to Sweetie Pies.  The love and laughter in the family is real.  The new season starts this Saturday…and it's one of the sweetest things on OWN.  Make sure you watch…
As our notebooks open for the lessons to come, we start the class with Oprah giving us our first #Lifeclasspoll:  Are you in pain?  Mentally. Emotionally. Spiritually.  Are you holding on to something in your past that causes you pain?  From this Lifeclass Twitter Poll:  77% said YES they are in pain.  "People are hurting…and a lot people think they are suffereing are alone," Iylana tells us. "You are not alone."   Don't feel that you are alone in this."
"Until you heal the wounds of your past you will continue to bleed." – Iylana Vanzant
PAIN – Pay Attention Inward Now – This is Iylana's definition of pain.  Usually, the pain is coming from something inside…but we reach for something outside to calm it.  The pain is trying to get your attention. "Pain is not natural.  It may be normal in this society, but it's not natural." – Iylana Vanzant
Pain Action Plan:  Feel. Deal. Heal. —–> Feel it, Deal with it. Heal it…and move on.
Case Study:  Iylana and Oprah talk to women from the Rockville Correctional Facility.  "I am reminded of what I did. I feel hurt. I feel embarrassed.  I feel pain," shares one of the women.  Iylana points out that when you talk about how life is, you talk about things in the third person.  "You have to stop externalizing it," Iylana tells us.  Pain comes from the inside.  "Everyone is in a prision. Some of us have a key. They (the people in jail) don't have a key," Iylana tells us. "because anytime there is anything that keeps you from moving, living, growing…that is prison."  "They are in prison because they externalized it and acted outwardly.  That is why they are in prison."
"All pain is the same.  We all just deal with our pain differently." – Oprah 
Your Pain vs. Universal Pain – See Pain for what it is.  Make the experience universal and the pain your own –  "Own what you did…my behavior, my actions, my experience…don't own the unviseral experience – not my crime, my cancer, my gossip, my infidelity… OWN your behavior in order to heal your pain." – Iylana.  Where is your shame? Where is your hurt? Where is your life hurting?  Understand where your pain is coming from inside of you.
The Badge of Being Strong:  "When you are the strong one, people don't give you permission to hurt," Iylana tells us.  "Do not allow other people to dismiss, deny or disregard your pain. When you tell them you are hurting, tell them again and again until someone hears you…"
"How you treat yourself is how you treat God because you are the representative of God in your life…In your life, you have to be as good to you as you want to be to God if you want to be of service to others in the world….it's not self-fish to put yourself first, it's self-full." –  Iylana
Filling up you OWN cup & Taking care of you:  "You want to come with your cup full.  My cup runneth over.  What comes out of the cup is for y'all. What's in the cup is mine but I've gotta keep my cup full….When you start sacrificing yourself for others, you make them a thief because they are stealing from you what you need and they don't even know it." – Iylana
Case Study: Standing with Steve – Steve has been sober for over 10 years but is having a hard time in life…and Oprah and Iylana asks people to stand up if they have been touched by addition from someone within their lives or in their own life.  Everyone is standing with Steve…and it's a powerful moment.  Iylana does what she does best…and gets him to the heart of what's going on.  She tells him, "You are addicted to your story…that's the new drug, the story.  Who would you be without that story?" she asks.  "You know how to be that person in that story.  Who would you be without that story?  What does that mean?"
Addicted to your Story:  Sometimes your story keeps you distracted from  your greatness. "Can you believe or are you willing to consider that right where you are, God is….so where is God when you start feeling sorry for yourself?  Can you believe or are you willing to consider that God wants your perfect happiness?  So right where you are and perfect happiness is right here. What is stopping  you from stepping into that perfect life?"
Healing Fatherless Sons – Reaching for what they don't have.  Affirmed by a man.  Iylana takes Steve and provides him healing and works to feel of those holes that Steve has within his life…within his past.  As Iylana helps Steve, Sweetie Pie's Robbie comes up to help Steve fill those places and heal his life.  It's powerful…it's personal.  Standing with Steve.
Change your Story – Leave your story. Don't get into your story. What is the bottom line? What is the problem?  How can you tell your story that lifts you up?  How can you tell your story a different way so that it will not disintegrate you but it will lift you up?  CHANGE YOUR STORY!  CHANGE how you TELL YOUR STORY!
How to you get yourself unstuck and tell another story? 
Face the facts. Speak the truth.
Tell the truth about who you are, what you want, what you are willing to do and what you are not willing to do.
Ask for what you want.  – Most of us are stuck because we are accepting what's going on.  Be willing to get a no but have a clear vision of what you are going to do.
Get a vision. A vision will pull you forward.
Case Study: Laura and Noah.  Laura is stuck in tremendous pain of wanting to be a mother but not wanting to deal with a child with autism.  Iylana tells her, "You wanted to be a mom. You asked to be a mom. That's exactly what you go."  Laura says, "I guess I didn't expect it to be this hard…"  Ask yourself…"If this is how God designed it to be…then who are you angry with?" Lots of people get what they ask for but it doesn't always look like you want it to look like – being a mom, being married, asking for a job…Oprah reminds us that often, "You have a picture or an idea.  The Kodak picture is not the reality of what is going on in your life."
To find your Vision: Be able to answer this:  What do you want?  What does that look like for you? Get clear about what you want.  Get a clear vision."You can't get what you want if you don't know what you want." – Oprah
Being a Mom:  "You are a mom. That means that you are God's hands and feet on the planet…and God entrusted you with a child…" – Iylana
Healing Yourself:  Any hole that you have in your life can only be filled up with one thing – God.  That is how you heal that pain.  Face the facts. Tell the truth.  "I love boo boo and boo boo makes me feel good," Iylana says.  "The truth is that boo boo is a weasel."
Input from Skype
Prasana from Canada – our fellow #OWNAmbassador was the most amazing Skyped in visitor!  He gave us laughter and sunshine and happiness just with his presence!  Reveal the inadequacy for the lie that it is. …so you can recognize your greatness. "If a thought brings you stress or pain, think another thought," Iylana tells us. "In the moment that you are feeling inadequate or unworthy or alone or crazy or fat or green…get another thought."  Scoop it up…scoop it up!
Kuvyal from Dubai Skyped in to validate what many feel…her cup is half full but she keeps giving and giving.  She's tired of being strong.  Don't do this…deny your truth to avoid the confrontation.  Iylana tells us, "Don't do this. Tell the truth to get unstuck….you've got to be willing to move everything to gain yourself."
Dianne from Melbourne, Australia also joined via Skype shares how changing her story has changed her life in a very profound way.
As we finish up the first night of class, Prasana reminds us to "scoop it all up!" and Oprah reminds us that "Iylana fixed my life" will be coming to OWN this summer.  So, as we close our notebooks and put down our pens until next week…we are scooping up and soaking in the lessons from tonight.  Don't be addicted to your story…step out of your story…even create yourself a new one.  Live powerful…pain free.  Heal the pain that is holding you back…and become everything that you can be!  Next Week…Lifeclass continues and The Daily OWN will be in NYC live!  Thank you OWN for the special invite.  Until then, we are going to be soaking in the blessings and the lessons from today…and getting ready to continue to fill up our cup with Lifeclass!