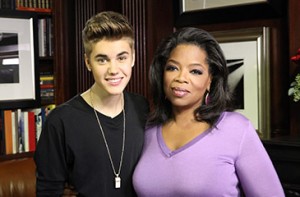 In an interview a few weeks ago for OWN, Oprah sat down in the famed RL Restaurant in Chicago with Justin Bieber for her network interview show Next Chapter.  Over what Oprah calls "the best fries" for Justin and a salad for herself, the two takeover the restaurant for the afternoon while scores of fans watched from the sidewalks of Chicago through the windows, giving reminiscent signs of fans from The Beatles teenage cult classic, I Wanna Hold Your Hand.  As Oprah shared fries with the eighteen year old super star, girls cried outside the windows and everyone, both in and outside, just tried to just be in the moment.
With a little concert footage from the kickoff of his Believe Tour, Oprah got her first Bieber concert experience the evening before. One of the highlights was giving her "One Last Lonely Girl" moment up to a young girl named Gianna.  As Oprah passed on her joy, she offered a young girl an experience of Justin Bieber singing to her…even if it was in front of thousands of people, it was her magical moment. Oprah's still in the business of making dreams come true.
From the concert, to lunch the next day, both Justin and Oprah settled into their table at RLs and the conversation seemed to come natural.  Recounting a little of his journey of singing on the streets in Canada to YouTube to Scooter Braun and more, Justin tells Oprah that "Yes, sometimes he's lonely," and that this(his fame) didn't happen overnight…"there was work here."  When asked about people upset about him changing, he reminds the world, "I'm just growing up."  Justin opens up about his relationships, his life and his work and the hour long program seemed to go by too quickly and that probably left many girls all over the world just a little more in love with him.  As he told Oprah that he wants to be married at 25 and have a handful of kids, Oprah did give him one piece of advice – "Rethink that. 25 is still young…" Almost immediately, we could feel the energy of millions of girls from around the world as he smiled and promised that he'd rethink that one.
Reminding me of a young man, grounded and with an old-soul, Justin came across confident and centered.  As he settled in with Oprah and shared thoughts on life, his family, his rise to fame and his dreams for the future,  it felt like we were settling in watching two friends reconnecting.  When asking the Executive  Producer, Andrea Wishom, on Twitter about what impressed her the most about Justin, she responded, "I thought he was very comfortable, confident and enjoyed the conversation! Those are the best interviews!"  And what she described is exactly what Justin Bieber and Oprah's team delivered – a very comfortable and confident man.  If he was a female, we would say he had "blossomed."  As a male, perhaps it's a different adjective but its the same impact.  It is clear that the self-awareness and swagger are something that looks good on him.  But what it more clear is that he seems connected in a way that you don't often see from superstars.  Late coming to the party, we are one (or two) of his 31 million followers on Twitter.  He has used social media without even really realizing his impact and his reach…and yet, he still seems connected to the world.
Whether it's the wonder of television or the Oprah's effect of connecting with the spirit of those she interviews, this I know for sure…these two sisters caught a little bit of Bieber Fever last night.  It's a little embarrassing…but it's true.  Feeling a little like a teenage girl as we watched the Twitter feed blaze through the world last night, we realized that there is more to Justin Bieber than his music…he seems like a really down to earth nice person.  From the great blooper shots at the end of the show to the shopping and singing to the fans outside…he seemed like a really great guy.  I mean anyone that will let Oprah take their fries…how could you not just love him.  Next Bieber concert…you never know who might show up in the front row…maybe a few OWN Ambassadors.  Wonder if he'll share his fries with us… I believe.