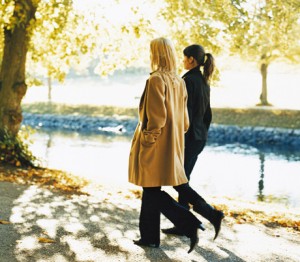 OYou 2012 Boot Camp Challenge: Get Moving, No Excuses – Week 2
If you want to see change in your life, you have to make it happen.  Earlier in the week we discussed ways to steal a little time back in our lives…helping us to eliminate the well-crafted excuses we all use to avoid exercise.    The reality is that in order for us to get healthier, we must keep moving.  That is the most important thing.   Here are a couple of ways we all can integrate getting fit into our daily routine.
Go shopping a little longer.  Next time you head out to the mall, Sams or Costco, show up to the store 30 minutes early.  Take that time to walk the entire store at a brisk pace before you do any shopping.  Plus what a great excuse…"I have to go shopping because I need to get my workout in for the day. "
Turn on the Tube.   Many of us have out nightly TV favorites.   Instead of sitting your bum down in your normal chair, pull in the exercise bike or get on the floor to do leg lifts.  Too much of a commitment?  Then begin by getting up each time a commercial comes on and do jumping jacks.  It is that easy to get moving!
Keep it Close.   Many of us live within a mile of at least one of our regular haunts.  Whether it is the bank, Starbucks, the grocery store or a local restaurant, try to ditch the car and either walk or ride a bike when you can.  A casual mile walking usually takes around 20-25 minutes.    Not only will you save money on gas, you will be helping both the environment and your overall health.
Dance through your Day.  Whenever and wherever you can…dance!  Trust me it makes vacuuming and simply moving around the house so much fun.
Walk & Talk.  The next time you need to make a call to friends or family, step outside and walk around while you chat.  A 15 minute walk can add 2,000 steps to your workout which can be an entire mile.  Imagine if you took all your calls that way!
You would be surprised how easy it is to add an element of exercise to almost any task.  The more you move, the better you will feel.  So get creative and try to remember to always keep moving!
Photo Credit: Arca Universal