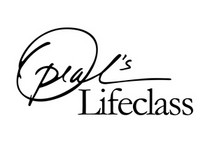 Tonight, Spring classes are back in session as Dr. Phil sits down with Oprah in Chicago for a filming of Oprah's Lifeclass. Saying a little "thank you" prayer for the perfect timing of this event for us, Oprah and her OWN team are taping a two-hour session of Lifeclass at 7/6c tonight that will be live streamed around the world via Oprah.com and on Facebook.com/OWNTV. 
As Dr. Phil's sits down for his first appearance on Oprah's Lifeclass, we are sure to get some "tell us like it is" moments and some great life lessons to add to the notes that we've already taken on Lifeclass.  Like no other show on television, Oprah has opened up the stage to an interactive life course – master level for those searching to step up and into their best lives.
Join us and other Lifeclass alumni tonight as we virtually sit next to each other in class.  But if you can't make it tonight, OWN will be airing the show in the network lineup in the near future.  Take in an extra deep breath and an extra dose of daily meditation because here comes Dr. Phil…and when he steps into class, who knows what might happen.