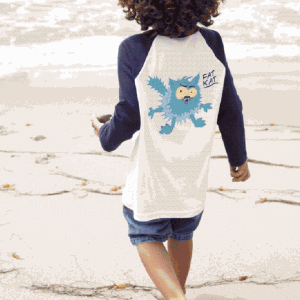 Fashion is constantly evolving just as our views do. What customers scammer for one season, they may not be caught dead in it the next. As Heidi says, you're either in or you're out! Although most of us aren't as harsh as the catwalk critics, designers have been known to find trouble. Racist comments, unhealthy endorsements or inappropriate actions can cause the friendliest of customers to outstretched nails and eye designers like prey. Boycotts of products aren't unheard of but what bothers me is that it takes "bad" behavior for consumers to send messages with their wallets. Although I am grateful that we do, I wish we did the opposite as well. There is no arguing that money is power and consumers as a whole have a tremendous amount of it. Instead of waiting for a fashion faux pas, why not put our money to work?
For instance…everyone likes a simple tee. Whether you get them from Nordstrom or Target, we all have a dozen or so in our closets. Think of the difference we could make if the next t-shirt you purchased supported a cause. Imagine if we all tried to purchase with the intention of giving our money to something that personally matters to us. I am not saying that everything you buy should represent your causes, but when you can…why not consider a few of these stores?
So while fashion can be found absolutely everywhere, next time you start to think about adding to your collection, consider adding a piece that brings with it a tremendous amount of good energy. Shop for a cause…and fill up your soul while you fill up your shopping bag!  And…if we missed any of your favorites, leave a comment and share them with us!  We always have room for more great energy in our life!