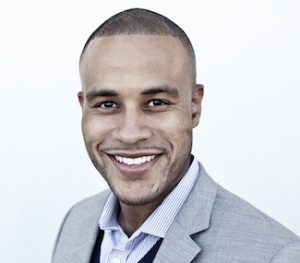 The OWN Ambassadors are blessed to have DeVon Franklin joining us for our 12 Days of Celebrating Consciousness.  This Author, Hollywood movie executive and preacher is a shining light of love and faith in a world where we are starving for this kind of leadership.  DeVon Franklin's book Produced By Faith is a "How-To" guide on how having faith and trusting in the Lord will only lead you to the greatest of successes. 
I was first introduced to DeVon Franklin when he appeared on Super Soul Sunday as a guest of Oprah Winfrey, discussing how to find your life's true purpose and in turn, talk about his new book, Produced By Faith. If you have not yet read this life changing, view altering life manual, I 100% recommend it! What fantastic insight he has and his words will reach your heart and allow you to see the path you are on, realizing  that you just have to be where you are and trust that God has already mapped it out for you. All we have to do is be who he has created us to be. Using his experience in the Hollywood film industry, DeVon's words allow us to see our lives in the form of a movie. Each step, each process and all the players involved, fitting into each role. I promise you this is a MUST read and you will be forever changed! A major lesson that seemed to jump off the pages of Produced By Faith is that "the truth is that you and I are only in control of 2 things: 1) how we prepare for what might happen and 2) how we respond to what just happened. The moment when things actually do happen belongs to God."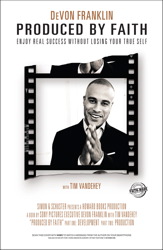 Below are some notes from other OWN Ambassadors who have also been moved by his heart and inspired by his words:
 'Listening to Devon preach on Changing My Posture created a huge shift in me. I am a DOER, always striving, rarely taking the time to BE, to take in all the lessons and enjoy the moment. I have been much more present since listening to his words. He is such a great teacher and his work really brings those lessons home!' ~ Lia 

'DeVon's book opened my eyes to realize that when something happens in my life it is just preparing me for the sequel of the movie of my life. I just have to keep having faith in the director of my life and trust that whatever we co-produce it's all going to be well. My life is my movie and I just have to be the best actress in it and make sure I have a great cast of amazing supporting characters that will lift me higher. Looking forward to seeing what the new sequel is going to be in my life.' ~ Luisa

'When I think of DeVon Franklin, I think of someone who epitomizes values, belief, and faith. I thank him and his book Produced By Faith for the huge impact it's made in my life. Reading his book made me look deep within myself and realize I was the one standing in my way. After reading Produced By Faith, I understood that everything happening was God's plan. I recognized why I was there, everything played out the way it is supposed to, the message was clear, "It's Already Done". Since I started to pray, I realized how much prayer has enhanced my life, I feel so blessed for where I am today. I wouldn't be where I am had I not accepted the message DeVon and Produced By Faith had given me.' ~ Shelley

'Devon Franklin is truly an anointed individual!  His book, "Produced By Faith" brought a spiritual clarity to my life in a way I'd never experienced previously.  Using the exciting movie making process as a parallel, this book clearly identifies the struggles we face in life.  More importantly, "Produced By Faith" demonstrates how to connect with God and not only navigate those challenges, but to conquer them as well.  Green light your life now!  "Produced By Faith" is a must!' ~ Lonnell Williams 

'It is already done…AND…change your posture, best ever!' ~ Janet
DeVon Franklin started in the movie industry 10 years ago and has taken Hollywood by storm. He is now the VP of Production for Columbia Pictures, a division of Sony Pictures Entertainment. Starting as an intern for Will Smith and James Lassiter, DeVon has rocketed himself to a place where he has gained the respect and admiration of everyone who has the privilege to hearing his message. A few of DeVon's film highlights include: *Sparkle (2012), *Moneyball (2011), *The Karate Kid (2010), *The Ugly Truth (2009), *The Pink Panther 2 (2009), *21 (2008) and *Hancock (2008).
DeVon's message of 'Changing Your Posture' is one that has resonated so much with me.  For more information on DeVon's work on living with light and faith, check out his website for ProducedbyFaith.com, follow him on Twitter @DeVon_Fraklin or find him on Facebook.  To order your copy of Produced By Faith, visit Amazon.com.    For more great background on who DeVon is, check out this great article on Oprah.com from OWN:  Five Things To Know About DeVon Franklin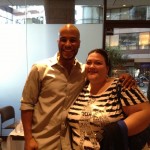 ***About OWN Ambassado Misty Germano  – I am a thirty-something woman living in Toronto, Canada. I am a daughter, an auntie and a friend. I am a survivor from a dark childhood but most of all, I am me and my past is not the story I choose to live now. I am on a journey of realizations, striving to live my most authentic life. This has been a ride full of twists, turns, highs and lows and I wouldn't change a thing.  I will be tweeting quotes and questions today from Produced by Faith from @Mistys_OWN.  I look forward to hearing all of your responses! 
"The biggest adventure you can ever take is to live the life of your dreams." ~ Oprah