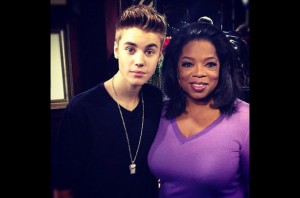 Christmas is coming early to OWN for Justin Bieber fans all over the world.  Like only Oprah can do, Oprah's Next Chapter will be bringing us an amazing interview and look behind the scenes with Justin Bieber.  In a press release from OWN, the "Oprah Winfrey Network and Discovery Networks International announced today global superstar Justin Bieber will be featured in a special episode of "Oprah's Next Chapter" airing in more than 100 countries worldwide. The interview first premieres on Sunday, November 25 at 9 p.m. ET/PT on OWN: Oprah Winfrey Network and will then air throughout the world on DNI's female flagship channels TLC, Home & Health and Real Time, beginning Sunday, November 25."
Yes, that's worldwide!  (I think I hear screaming at this very moment!) After experiencing the concert last night at the opening night of Justin's "Believe" Tour, Oprah experienced first hand what it means to be in the middle of that energy.  Then, according to the press release, at her favorite RL Restaurant, Oprah sat down with the mega-pop star today for the interview.  The press release also notes that this is "one of the most in-depth interviews the singer has ever agreed to do" and that "Bieber opens up to Winfrey about his growth as an artist, the pitfalls of fame and living in the spotlight."  The interview will also feature an impromptu holiday shopping at Chicago's Ralph Lauren store along with an "impromptu acoustic performance" for those lucky enough to be in the area.  THIS will be an interview that you DO NOT want to miss.
So, here's a chance for all of his fans from all over the world – let's blow the ratings off the roof on this episode.  Tweet the date and watch the interview!  Let's make history… We're beliebers….are you? Let's make this happen!!!