About The Daily OWN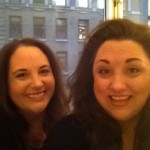 ABOUT The Daily OWN (TDO):  The Daily OWN was created by Paula and Patricia Pritchard in January of 2011 for the world to enjoy the lessons and inspiration from Oprah and the new Oprah Winfrey Network. We started out the website as viewers, looking to pass on the lessons and pay forward the messages and send them out into the world. We've grown into so much more.
In October of 2011 as we wrapped up our summer OYou Boot Camp series, O Magazine contacted us and Gayle King personally invited us to attend the conference and take in the experience.  As an added bonus, we appeared in the January 2012 O Magazine alongside Gayle in an article about our trip to the conference! That was amazing!  In April of 2012, we were invited to NYC to attend a taping of Oprah's Lifeclass as well as meet Oprah, which was an incredible opportunity!   Along the way, we have grown contacts, moved in amazing directions and made lifelong connections.  We can't wait to see what comes next for us in this great adventure!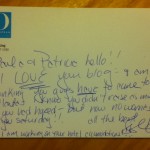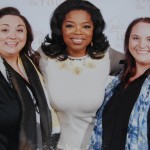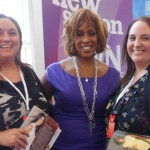 For those who want to be inspired by life…for those on your OWN journey…enjoy the site…because the love that goes into it is all for you. Here's a little bit about us…
As sisters, we have usually found our lives on different career paths. However, these paths always seem to bring us back together and home and always to Oprah, which is ultimately where we feel the most balanced and the most loved. Living our best life…we started The Daily OWN in January 2011 along with the launch of the OWN network. We strive to be a leading source of information on the new Oprah Winfrey Network and OWN Ambassadors.  TDO is published by viewers, for viewers around the world.
Here is how each of us describes the other…after noting that we are the best of friends!
Paula has spent over 18 years in general marketing and program management in the communication and software industry. In search of her passion, she finds her voice in writing and her vision through creative and artistic outlets. As the optimist in the family, her strength lies in her kind heart and her ability to see things from many perspectives. She is the designated driver and the bossy middle sister.

Patricia has over 15 years of program development and management experience within educational programs, community events and non-profit organizations. As the designated and honorary "doctor" in the family, she finds that her capacity lies within her ability to listen and be present in all situations. She is the balance of the family, the organizer of all things and the bratty little sister.
Now, both consultants  and writers, we work together to inspire, create and push positive energy out into the world.  For us, it's important to enjoy life as much as possible!  If you would like to contact us at The Daily OWN, we would love to hear from you.  Here's how you do it:
**Please note THE OPINIONS EXPRESSED WITHIN OUR WEB SITE ARE SOLELY OUR OPINIONS. What is written on the blog/website is to be taken as our opinion rather than fact, advice, or counsel. We simply are here to review, recap and reflect on life and on programming on OWN…and on the lessons we take from it. **