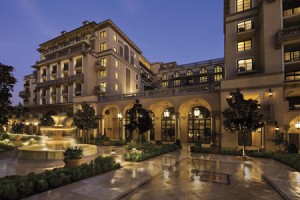 Having lunch with Oprah? Priceless.
Having the Montage Beverly Hills host you during your experience? Totally Awesome!
It's with overwhelming excitement that we announce that The Montage Beverly Hills will be our host home for our visit to the sunny city and for our date with Oprah and friends!   With award-winning and luxurious accommodations, we realize, once again that the dreams that we dream for ourselves sometimes even leave us speechless.  This amazing property located in the heart of the Golden Triangle and one of Southern California's most celebrated neighborhoods will simply take your breath away.  While we are beyond words about seeing our OWN friends and enjoying lunch with Oprah, we will be celebrating our journey and our Oprah moments at the Montage Beverly Hills.  If we aren't with Oprah, you just may find us relaxing in their 20,000 square foot award-winning Spa Montage or lounging at the amazing rooftop pool and cabanas.  Maybe Gayle and Oprah will join us in our adventure.  You never know!  A big thank you to our host hotel, the Montage Beverly Hills.  Now, the next question is who will be joining us there and what day do we schedule an OYou OYes spa day?  Oprah, are you in?