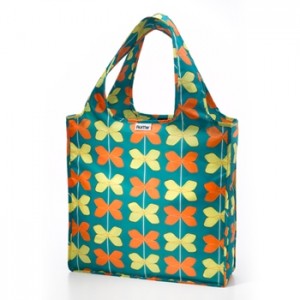 A great RUME bag was part of the morning giveaway at the OYou conference in Atlanta. As we walked in and found our morning seat, a pretty little bag, all wrapped up with our OYou journal and amazing (erasable) pen was waiting for us. DELIGHT…but I never knew just how wonderful it would really be. I think I love you, RUME.
As soon as the reusable grocery bags were available, I bought them. Trader Joes, Whole Foods, Fresh Market, Publix to just name a few…local merchants, breast cancer awareness, humane society fundraisers…I have them all. But I never HAVE them when I NEED them. They almost NEVER make it back into the car…I'm just not THAT organized. But…my life has changed. OYou gave me a RUME bag and now…I think I'm in love.
If you can form a habit in 20 days, I've done it. RUME goes in my purse everywhere I go. I just wrap it up and throw it in. When we come home…I empty her, fold her up and get her ready for her next adventure out. RUME, you are amazing. You've changed my life. You've helped me make my life easier…I'm pretty sure that I love you…but it's only been a few weeks…and I don't say the "L" word until at least 60 days into a relationship…but I am changed and better for you in my life…so we are off to a great start.
If you don't have your own RUME, I suggest that you go an introduce yourself to one.  I'm pretty sure you will think you LOVE yours too…
{ 0 comments }