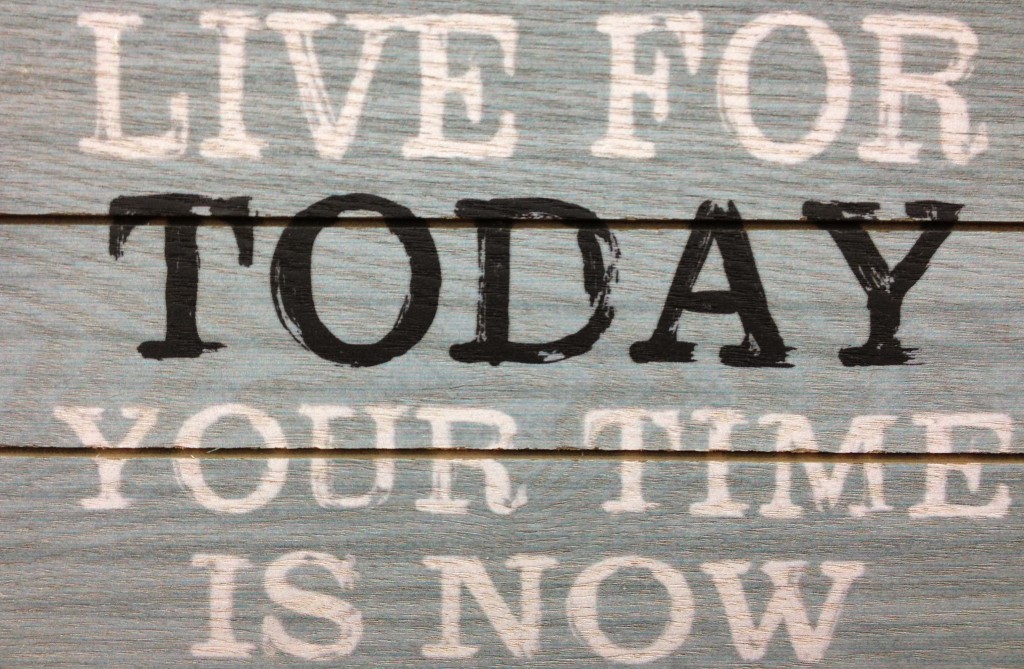 Coffee. For years, I would rank coffee each morning as something that really mattered. "You don't understand," my twenty-something self would say, "It's not for me, it's for the rest of the people in my life…it just makes me nicer." While coffee does indeed play a role in how I move through my day, recently a more important list came to me on what really matters. While the world full of people around often chase fame, money, status, ratings and to be noticed by whoever they feel the need to be noticed by…and while there is nothing wrong with being on that road…I would suggest that sometimes you may want a change in your routine…and when you do…there may be another list that matters more to you than you even realize.
In a lifetime, I wonder how many times we wake up. How many times do things come along in the world that make us stop, look up and take notice? In January, I woke up. Four simple words that pushed me to take notice. Four simple words that jolted me awake. Four simple words – your mom has cancer.
For years, family and friends have crossed my path that have gone on this journey…students of this cancer lifeclass. It wasn't until I became reluctantly enrolled that I understood – it is both a blessing and a bulldozer to your life. Cancer changes everything. It shakes you awake violently – like a never-ending earthquake and leaves you numb in the quiet moments. You begin to understand that nothing really matters except everything really matters. There is a sense of urgency, yet a slow-motion movement through a thick fog. It's like that big red pill that you used to chew during dental week at elementary school that put highlights on the areas that needed your attention. Cancer is that big red pill.
So for months, words haven't come easily…except the wrong words…the words that I didn't want to write about…which is hard when you are a writer and a lover of words and when your passion requires you to write. "Write about what you can't write about," a wonderful teacher from Hay House encouraged me a few weeks ago. So, with a little nudge, I'm sitting down…and telling you why the words stopped flowing and life changed and sharing my top 10 things that really matter…to hope that you look for your top 10 things now…and not when like shakes you awake.
As OWN and Oprah went with momentum into the new year, our blog celebrated side by side. Two years of this Daily OWN journey…of lessons to open the heart and to live with passion. Now add in strength and bravery. As Oprah launched her January lineup on new shows, life launched a new lineup of landscapes for us at the same time – our mother was diagnosed with cancer.  At first, the doctors couldn't find out what kind. Time ticked away as they searched for the right test, the right biopsy… the right diagnoses. Finally, we had a working title to the situation – stage 4, pancreatic in nature. For weeks, I couldn't say the words. They still render my mom to tears as we all hope this is a dream…but instead of waking up to pre-cancer life, life has us waking up to what really matters.
Each day, I hold my mom's hand on this journey as we go through weekly chemo treatments, radiation, days of joy, days of sickness and life's twists and turns. "No one can put a date stamp on your life," a wonderful friend told us at the beginning of this. "Live!" With this big red pill that highlights all the areas of life, there is a profound understanding of what we often take for granted – decisions…independence…answers…cures…time. …and a gain of perspective like a golden spotlight on life and the important stuff. What really matters? When you strip away health and time…what would that list look like? Cancer makes you look at things in a way that you have never even considered…and here is what I think really matters today…knowing that tomorrow it may look different…and that I reserve the right to add as I discover and learn the answers from this lifeclass…and from this journey.  Today…here's what really matters to me…
Faith & Hope

Slowing down and paying attention.

The little things.

Doing everything you do with love.

Saying I love you with every gesture.

Letting the small stuff go.

Holding on to the important stuff.

Spoken words.

Being there.

Being here.
I hope it makes you think about what really matters to you.  If you see things I've missed…please share….because waking up and seeing the highlights of what really matters in your life is the most important lesson of all.