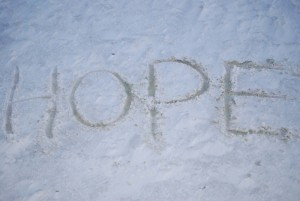 Today, I woke up with a fever, feeling less than 100% and dragging.  Taking a few minutes to whine quietly to myself and let the energy pass through me that had taken over my body, I got out of bed and started the day…just like every other day… a little slower but with an awareness that hasn't always been there.
They say timing is everything.  This lesson swoops in, landing right in the middle of one of our OYou Boot Camp "projects,"  and each morning I wake up reminding myself of what I am focusing on for the week. It's almost like the sun peeks in, wakes me up and there is a whisper.  Today…it whispered that there is hope in finances.   Last year when we worked on the "money week" projects and outlining the personal process it was much different.  It was almost like we immersed ourselves in a cold water reality and started heavy-handed with a Suze Orman smackdown.  This year, things are a little different.  I am a little different. I am putting hope everywhere.
Each moment that I can, I am unknowingly sprinkling a little hope into my life.  Reminding myself of the great things around me and yet to come, I go through each day as a work in progress.  As I read and soak in Oprah's new favorite book, The Untethered Soul, I find myself repeating these words quietly at different times during the day – "heart, stay open… heart stay open…." like I am reminding the energy centers in my body how to stay on the right road…and how to navigate through the day.  In return, I'm feeling more hopeful, less anxious…more in control.
Today, sprinkle some hope into your life and your world.  Smile more, breath more deeply, laugh more…let your heart stay open to everything around you and change your world with just a little hope and energy.