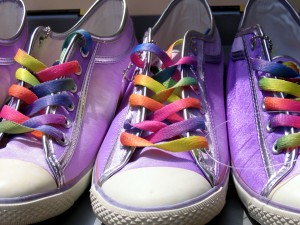 With only 32 days and counting, this OYou Boot Camp for 2012 has become more of an "O – You Matter" experience. Learning more than how to balance a check-book or de-clutter a space, this challenge has been more about staying on our feet and in the game and showing up.  With life throwing everything it can at us, still we rise each week and into the challenge.  Each day, we diligently pay attention to the week's topic and search for lessons along the way as we continue to learn from the journey that we've been on these last few weeks.
Fresh out of our Hope in Finance week, Suze Orman would be proud that we found magic in mileage to get us to OYou 2012 in L.A. for a few pretty pennies or two.  Actually, we've made a heart mission out of it and will be able to visit our favorite relatives with a 4-hour layover on the way out to California as well as drop our mom off for a visit with her favorite sister during the stop. This extra bonus of picking up a little love on the way to OYou took some magic but it all came together and feels amazing.  Along with the love from friends that we are looking forward to seeing on our home coast, we are starting to feel the impact of exactly what OYou this year is meaning for us…and we are staying open to what else it may bring into our lives!
Through all this, we are challenging ourselves and pushing just a little harder than normal. This week, just off the heels of Fashion Week events all over the world, we are reminding ourselves that looking good, feeling strong and being fashionable go hand in hand with living your best life.  Get ready Adam Glassman…we've got some VYou questions for you!  And as we move into the final stretch, we are ready to be open to anything as we take on finding the right style for our lives.  Looking for that perfect fit, we'll be doing these three challenges for the week.
Here they are:
What's our style? – Fashion designers and pages of magazines try to define style for the world…but this week, we are looking a little deeper to find our own authentic style voice.  What wardrobe uniform makes us feel like our best self and what are we saying to the world with our style?  Because while amazing clothes and shoes and everything are great, the best uniform for anyone is confidence. So, we are looking at finding our authentic confidence in style. 🙂
Closet Surfing – Diving into the deep, we are setting aside time to check out all the closets within reach to look for the diamonds hidden in them.  In the process,  we'll be donating what we don't need out into the world so that others may live their best life in style too.
Perfect Accessorizing How To's and Don't Do's – This time, we are looking for what works with our personalities and what perfect pieces won't break the bank but will help to push us over the edge into fashion confidence.  Yes, it's time for the bling.
We hope you follow our journey and are inspired enough to join us.  Welcome to week eight of our OYou 2012 Boot Camp Challenge. Let's finish strong! Take the time to pay attention to your life and your own style in the world. This week we are focusing on fashion and looking great…because fashion does not come with a size or label attached.  It starts first with who you are and how you present yourself to the world.  Live your best life…and that is the most beautiful fashion of all.