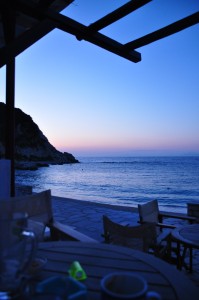 Today I arrive to the table SO unorganized. Life has crept up on me, too many demands and forever pulling me in every direction. So…it's no coincidence that our OYou Boot Camp challenge on organization has arrived to my front door and I am not as ready as I would like to be.  But, this is where challenge meets reality and change happens.  While last week's fitness challenge got us moving and looking at life and our time a little differently, organization promises to put in order some of the things that sometimes seem out of control.  This week we are still working on our lessons from the beginning – finding our passion and moving with fitness – but in the next 7 days we are adding another block to the top of our OYou tower.  Bringing organization into focus.  By focusing a little time to get our lives a little more organized, the world in turn will show up with sunshine.
Beautiful. Relaxing. Breathtaking.  There is a reason why these are the words that come to mind when I walk into my favorite hotel room and let out a big sigh as I fall to the perfect bed and have a little gratitude moment.  All through my life, I can think of moments like these – when I would walk into a room and feel this love of space.  For those who have this each and every time you walk into a room in your home – I am in awe. But this week, I hope to find my own way to join you in this space of amazing energy through organizing my space!  So while this week is a little about "cleaning up" …there is some deeper "O" moment that is there to show myself that I am worthy of feeling this amazing feeling every single moment of the day.  I only hope that with this OYou Boot Camp and focus this week, that I am able to get closer to it and bring it into my life.
During our organization week last year, we tackled a few familiar spaces and moved toward feeling organized and house proud.  This year, we are doing the same and going in deep. Inspired by OYou speaker, Peter Walsh, we are going back in to the cluttered spaces of our lives to find the diamond in the rough – our lives that are buried beneath it.  This week is a reminder that "Yes, I deserve to live with an organized room, closet, kitchen cabinets…even garage." Even more importantly, "Yes, I value people more than things." So as we jump in, we are keeping in mind that this is not meant to be easy and that life will feel so amazing after.  Focusing on the results will get us to the finish line.
Here is our 3-step challenge for this week in our OYou Boot Camp on organization. Join us!
De-clutter Your Space – Pick a space and go for it. Take the afternoon (or two) and purge what you don't need, use or want. Remember…everything has a place and a purpose. If it doesn't, it needs to find somewhere else to live.
No more junk drawers – Pick one or two to three or more of your junk drawers. Go in and get rid of what you don't need! Little projects and wins will keep you motivated to keep moving in the clutter-free zone direction!
Donate 15 Minutes a Day – At OYou 2011, Peter Walsh talked about arming  yourself with a garbage bag and a little time each day to go around your house and remove the items that are cluttering up your space. Donate them and give them a new life with a new family and in turn, give yourself a new life. The one that you deserve! Donate and pass on unused items to charity.
We hope you follow our journey and are inspired enough to start your own. Welcome to week three of our OYou 2012 Boot Camp Challenge. Take the time to pay attention to your life…take care of your mind, body and spirit and it will take care of you.  This week we are cleaning house…because you deserve to live your best life in the best space possible!