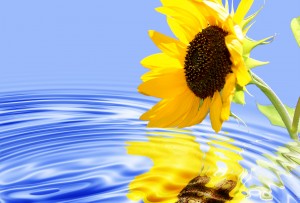 OYou 2012 Boot Camp: Beauty Inside & Out – Week 4
Happiness filled my heart this morning as I woke up remembering that this is beauty week in our OYou Boot Camp Challenge.  With 3 weeks down and 9 to go, the challenges have been challenging…but at least in focus.  Living your best life consciously and making the time for yourself is sometimes easier said than done.  Just getting on my own mental list to think about it is sometimes the best that I can do. But this week, I woke up feeling something different.  When I went through the motions of washing my face this morning, something I have done for as long as I can remember, I looked up and said to myself, "Good morning beautiful."
Last year, our beauty week landed towards the end of the boot camp schedule and we were dragging ourselves into it. This week, it feels like it's shown up in exactly the right place.  So, it's time to take a little time and focus on feeling beautiful.  This year we are looking at beauty inside and out. Life can get crazy and it isn't hard to suddenly realize that you have neglected the things that make you feel good or even letting yourself stop long enough to soak in the luxury of pampering yourself. Every once in a while we all need to spoil ourselves so this week, get ready to soak.  Find your beauty with us and take this journey. You deserve it.  Hello beautiful.
Here are our 3 challenges for this week:
SPA DAY! –  It's time for a 5-star treatment day that won't break the bank.  While almost everyone would LOVE to spend a week at Canyon Ranch or indulge in the 20,000 square foot award-winning Spa Montage every single day, this week we are going to bring a little spa treatment to ourselves on a budget.  With this experience, we will be finding out how to indulge and bring the spa experience into our own home so that we can find the things that help us feel good on the outside as well as the inside.  In the process, we'll save a little money so we  CAN go for that special spa day out.
Skin TLC – It's easy to neglect what you usually cover up and don't see.  But this week, it's time to do more than towel off and go.  It's time to give our skin a little TLC from head to toe.  We'll find some beauty treatments, give you some different ideas and give our whole body a little attention to let your beauty shine from the inside out!
Loving You – Each day start your day by looking at yourself in the mirror.  Find 3 things about yourself that you love and say it out loud.  "I love my freckles. I love my smile. I love my mysterious dark eyes. I love my curves."  Find 3 things. They can be anything and give yourself and your body the words of love to build it up. This is what's beautiful. Taking the time to compliment yourself…because you are beautiful.
We hope you follow our journey and are inspired enough to join us.  Welcome to week four of our OYou 2012 Boot Camp Challenge. Take the time to pay attention to your life…take care of your mind, body and spirit and it will take care of you.  This week we are focusing on feeling beautiful…because you deserve to live your best life knowing just how amazingly beautiful you are!