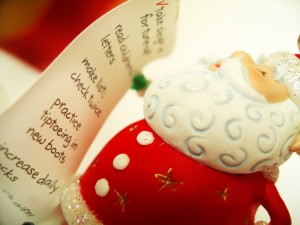 It's been almost a year now that OWN has been in our lives and we have been on this Daily OWN adventure.  So…with a tweet from Oprah and a follow from Sheri Salata and a trip to OYOU! from Gayle King and a mention in O Magazine, we thought that we should step it up and put our OWN Bucket list of dreams out into the world.  If you don't dream it, it will never ever happen…and we are dreaming BIG!  Here are the top ten things on our OWN Bucket list…Santa, we sure hope you are listening!
Our  "O" Dog-Day Afternoon – Spend the afternoon with Oprah's dogs…because she says that the best times of her life have been with her dogs.  If Oprah's available…maybe she could join the play date!  Maybe we could do it in Oprah's Rose Garden by her favorite tree…on a great California afternoon!  Oh…the bucket list dream just keeps on growing!
Our BIG  "O"  Magazine Dream – Have our journey and story featured in O Magazine.  Now THAT would grow our vision of getting the OWN lessons to people worldwide and inspiring the world!
Our LifeClass Dream – Go to a LifeClass Live session or two…or three…or four…or five…
Our Very Daily OWN Sponsor Dream – Get an advertiser or two and help make 2012 possible for the Daily OWN.
Our Favorite Things Dream – Bring back Oprah's Favorite Things…bring it out of the pages of "O" and make it a show on OWN!  Give viewers a chance to win some of the items just like you do in the magazine!  OH…and since it's on our OWN bucket list, we want to be "official testers" …to give "O" editors our take on all the items.  Just send them to our house…we'll let you know what we think!  O…AND…for the "O" list winners, we can write our OWN views of each of the winning items!  O…what an O-Mazing bucket list item dream this would be!
Our OWN South Africa Dream – Fly with OWN (and Oprah and Gayle too!) to South Africa to work at her school, to teach a few classes, to reach out into the world… OWN needs to document it - our OWN South Africa Adventure!  What a great docu-series this would be with or without us…preferably with us.
Our "You Did WHAT?" Dream -  Chips and dip and conversation with Sheri Salata and Oprah…
Our Harpo Studios Dream – Visit the Harpo studios…sit at Oprah's old desk…steal Rosie's candy…be on "Up and Down" with Caesar…go to a Rosie taping…oh…and RIDE Oprah's secret elevator that goes down to the stage.  AND…if we are there during "mediation time," we would do that too!  And since Rosie's involved, we HAVE to bring mom…she would be thrilled!
Our OWN Twitter Dream -  To have @Oprah follow us on Twitter!  #DreamBig
Our Ultimate DREAM – Be viewer consultants for the OWN network.  Now THAT would be a dream come true job and the best job in the world!
This is our OWN bucket list of dreams…and we add to them all of the time.  The sky's the limit when DREAMING!   Be inspired to start dreaming yourself and for your OWN life.  What's on your OWN bucket list?  How big are you dreaming?  Reach high…because you deserve it!