Oprah and O Magazine are bringing OYou 2012 to YOU!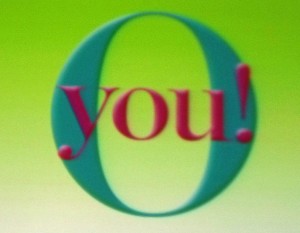 Oprah and O Magazine will be taking O You global and in a big way.  If you have plans for Saturday, change them and give yourself a gift and attend O You virtually.  We'll be here live.  We hope that if you can't physically be here, you'll join us for a lesson or two or all of them! Spend a little time this weekend celebrating YOU.  Join us virtually for OYou 2012 for a few hours this Saturday  and give your inner spirit a gift that will stay with you for a lifetime.  From Oprah.com/O You, here's the schedule.
Go to 
Oprah.com/oyou
on Saturday October 20 at 9:00 a.m. PT for the live webcast of O You! 2012.
Here's the full schedule:
9:00 a.m. – 11:00 a.m.: Opening Session with Suze Orman and Dr. Phil
11:30 a.m. – 12:15 p.m.: Get Organized! with Peter Walsh
1:00 p.m. – 1:45 p.m.: Love, Sex, & Relationships with Dr. Laura Berman
2:30 p.m. – 3:15 p.m.: Creating Your Right Life with Martha Beck
4:00 p.m. – 5:15 p.m.: Closing Session with Oprah Winfrey, Gayle King, and Iyanla Vanzant