Guest Blogger, Sean Martinelli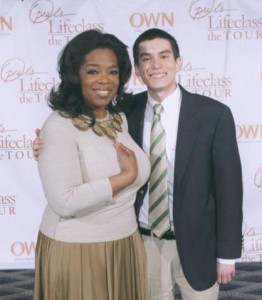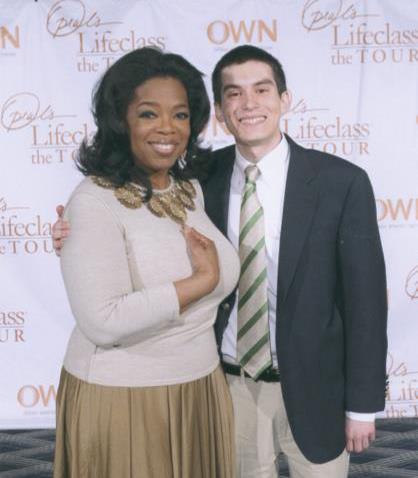 Below is the college admissions essay I wrote in the fall of 2011. In it, I share my journey to see a taping of The Oprah Winfrey Show.                 
Ralph Waldo Emerson once said "Do not go where the path may lead, go instead where there is no path and leave a trail." This statement truly resonates with me because it exemplifies the steps that I have taken in order to achieve my goal of seeing my media idol in action. Since I was eight years old, I've always been one of Oprah Winfrey's most loyal supporters and dreamed of being part of her studio audience.  I was drawn to the idea of television programming that reached a wide audience and had purpose. The Oprah Winfrey Show was not just about entertainment, but making change happen and instilling positive social action. However, I knew that it was sometimes easier for people to get a private audience with the Pope than to get tickets to a taping. Despite this, in 2009, when Oprah announced she would end her daytime show after its twenty-fifth season, I embarked on the journey of a lifetime to see a live episode of her show. It was a journey that taught me the benefits of conviction, and reaffirmed my mission in life of creating meaningful and empowering television.
In 2010, I was selected as one of The Oprah Show's "Ultimate Viewers". However, the producers informed me that due to strict studio audience age restrictions, I would not be allowed to attend the show at all during the final season. I was devastated, but decided that I would mount a campaign to overcome the age obstacle. By April of 2011, I had written hundreds of emails and made endless calls to Harpo Studios in the hopes of convincing them to bend the rules to no avail. Although I was well known by almost everyone on the staff, I began to fear I would never see a taping of The Oprah Show. Then, two weeks before the last show, one of the producers called and told me that because of my hard work and dedication he would give me two tickets to some of the final tapings. As I sat in the audience, I knew that I was a part of television history and by creating my own path, I was able to make my dream a reality.
I write about this experience because it taught me that determination is paramount to any lasting success. This journey has also set a tone that will have a lasting effect on my future endeavors. In the same spirit of Oprah's historic run, my goal in life is to help create television programming that inspires and entertains viewers. Although television today seems to be ripe with reality shows whose sole focus appears to be shocking viewers and making their stars infamous, I accept the challenge to change the medium. I want to create programming that affects change, educates and entertains. Furthermore, if my journey to see The Oprah Show proves anything, it is that when I'm passionate about something, and dedicate myself to it, the possibilities for what can be achieved are endless.
It has been almost a year since I sat down to write the essay featured above. In the time that has elapsed since then, I have had the pleasure of meeting Oprah Winfrey in person and am scheduled to travel to Los Angeles in October for the Oprah Magazine's annual "O You!" conference. I was also admitted into Syracuse University's Newhouse School of Public Communications, which I know will put me one step closer in my quest to create meaningful television.
When I look back at everything that has come my way in the past several months, it fills me with awe. However, nothing has occurred that I didn't think was possible for myself. People now come up to me all the time and ask me advice regarding how they can achieve a goal they've been seeking in their own life. Here are a few tips:
Work Hard and Don't Take Shortcuts– I always tell people to never underestimate the power of hard work because I now know for sure it is the "secret" to success. In today's society, it seems like just about everybody is looking for a shortcut. While shortcuts get us to our destination quicker, they cause us to avoid some of the original path created for us. This means we miss out on most of the lessons, and setbacks, which can enrich our life experience even more.
Ask for help– Near the end of my quest to see The Oprah Show, I began to solicit my family and friends to help me out in my campaign. Together, we were able to accomplish a lot more than me just trying by myself. If you can't do something alone, always ask for help! The worst someone can say is "No", which brings me to the final (and most important) tip…
Embrace the Barriers–  It is crucial to embrace the barriers that will inevitably form whenever you try to achieve something great. Usually when a person tells you "No" it means either the timing isn't right for what you're trying to accomplish, or something better is coming your way. I received hundreds of rejections during my journey to see The Oprah Show. What if I had just given up somewhere along the way? I would certainly never be in the sweet spot I am today. Likewise, if someone had just given me tickets to show when I asked for them the first time, I would never have had to work for them, and I wouldn't have learned the value of persistence at such an early age.
Take some time today to acknowledge wherever you are on your journey. Appreciate the barriers that are standing in your way and know that they are there for a reason. Understand that there is no dream that is too big for you to pursue, you just need to make the effort and build the courage to manifest it for yourself.
***Sean Martinelli is an original OWN Ambassador and currently attends Syracuse University – Class of 2016. His spirit and energy are amazing and his passion for serving the public through creating informative, inspiring, and entertaining media is strong. It is clear that one day, he won't just be working in television and media…he will be changing it. Sean can be found on campus and on twitter @SeanMartinelli.