My daughter reminding me not to take the everyday for granted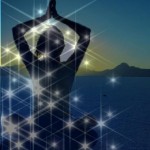 This morning I hugged my nine year old daughter tight to me. Realising for the first time just how much she has grown. Taking notice of the fact that she is growing up so fast and right in front of my face. Because I see her every day, I take so much of her growth for granted.
But this morning was different. She was leaving to go on her Brownie Pack Holiday for 3 days on one of the Islands. So the hug was extra heartfelt and special. My awareness of her was heightened because I wanted to take her in – all of her. Knowing I wouldn't be seeing her every day for the next 3 days. Knowing she is slowly but surely walking away from me to her own independent life.
And this time when I hugged her I realised I was not reaching down anymore to hug her. That I was standing almost erect hugging her. Her head slightly protruding above my underarm. I stood back and looked at her. Her legs have grown longer. Her body starting to mature and realised my baby is becoming a young lady right before my eyes. I have always thought of her as petite. Shorter than most everyone else in her class and for that reason I overlooked her growth. Thinking she is going to be small forever. Forgetting that though she may be small compared to others, she is growing in her own right. Realising it won't be long before her bags are packed and she will be walking out of my home into her own.
When we got to the dock, she jumped out of the car. Resisting my attempts to help her with her bag (which was one of the largest ones there) because she said she had to get used to pulling it herself. Her Brownie leader had told them they have to be responsible for carrying their own bags. I watched her walking away from me before I even finished parking the car. Head high. Determined shoulders. Confidence in her stride and a tear came to my eye. Knowing she is going to be okay. Knowing she can hold her own.
As she and her friends boarded the boat, she called for us – her family – my husband, her brother and me- so that we could hug her before she boarded. Seeing my little baby in her face again. In her desire to be hugged. Feeling warm that she still wants to be hugged. As she boarded, she kept waving to us. Calling out to us. Tears in her eyes. Trying her best not to let them spill. Trying not to look like a dork to her friends. But calling out to us constantly so we could wave to her. Waving frantically as the boat pulled away from the dock along with my heart as I followed the boat until I could see it no more. Remembering and treasuring the look of innocence on my baby's face. The image of her biting her bottom lip. Her beautiful face turned up to us like a pixie.
Whispering to the Universe, Be safe. Asking it to keep my baby girl safe as she went off on her 3 day camp. Not sure if I was shaking due to the unusually cool weather for this time of the year or the worry I felt letting my daughter go off on her adventure. Shaking it off, smiling, and blinking back the tears, I walked away from the dock with my remaining family wishing my daughter well. Willing her to be safe.
Reminding me not to take the everyday of my children, of my husband, of my life for granted because it is who we are and what we are. And our everyday is changing constantly. Subtly enough that we don't even notice. But changing it is.
***About Catherine Duffy – A woman in search of truth. A wife trying to love unconditionally. A mother trying to raise good citizens. A writer bursting through. Enjoying life's journey.  Catherine can be found @duffy_catherine and on her blog from Bermuda · http://bermudacat.blogspot.com.