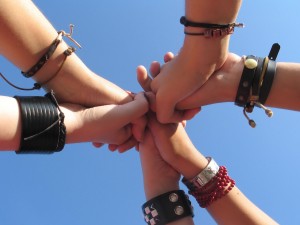 On Sunday, Oprah's Next Chapter brought us a one on one with Oprah and Jason Russell. Now, for those who are getting ready to Google Jason's name to find out what he's sitting down with Ms. O, let me refresh your memory. In March of this year, those on social media saw Twitter set afire by a smart campaign that just kinda happened from InvisibleChildren.org with the hashtag, #Kony2012. Spearheaded by a video that went viral within a matter of hours, this small 30 minute documentary that was designed to bring attention to the atrocities happening to children in the world by one man was also designed to make him famous and not in a good way.
After 93 million views, this has been accomplished.  However, karma works in all kinds of mysterious ways and while we were all remembering the name and face of Kony to bring him to justice, Jason Russell, the film maker, had a very public breakdown and brought a little unwanted fame to himself.  Now, both men famous, Oprah sat down for the first time with Jason after his very public breakdown on the streets of San Diego that was caught on tape.  In the new technology world of accountability, when something happens just assume everyone is going to know.  In Jason's case, that's what happened.
Oprah and Jason's interview was perfect. Just as expected from Ms. Winfrey, we were taken on the journey of the Twitter firestorm, followed by the media firestorm when Jason granted 17 interviews in 48 hours on 2 separate coasts and fended off organizational financial hits as he tried to bring his organizations work into focus.  Grabbing on to these 15 minutes of fame is important for a small, non-profit trying to change the world.  This accent up to the top is like a rollercoaster and it's fast.  But often we forget, the ride down on the other side happens at rocket speed.  This was no different for Jason and his work with Invisible Children.
As he and Oprah talked of his journey and what it feels like to have a very personal breakdown that was caught on tape caught and made very public, it reminded me of two things.   How this could happen to anyone and how quickly we turn from focusing on the issues to focusing on tearing them down…or moreover, tearing down the person who is bringing these issues into the light.   So, Oprah's Next Chapter brought with it an inside look at how to pick yourself up and move forward after a social meltdown.  But even more, the subtle social cues of how we react as a society were playing in my mind as I watched the interview.  I want to be the person who helps shine the light on movements that will change the world and that inspire others to be that change too …and I want to be the person who extends their hand to help someone stand back up…no matter if they have been pushed down by a bully or simply fallen down on a busy street corner somewhere in San Diego.  Instead of pulling out my cell phone to capture the moment, I hope that in that situation that I would be pulling out my cell phone to call 911…and then, extending my hand to ask, "How can I help?"