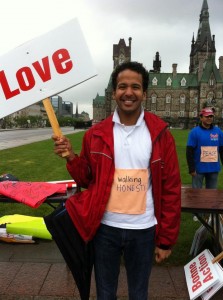 "Today I am me. I am free-er than free. There is no one alive who is Me-er than Me. I am the BEST I can possibly be." – Dr. Seuss.
Through these words, Dr. Seuss defines the essence of authenticity as an expression of freedom and confidence: freedom from the shackles of others' expectations and demands on us and confidence in the notion that our very beings are worthy of love and respect.
Authenticity to me is a state of being – being comfortable in your own skin such that you can put forth the best expression of yourself.  By best I don't mean – wealthiest, most powerful, most influential, or most popular – by best, I mean the version that communicates to the world that "I matter".  One of my favourite "Oprah lessons" of all time is when she shares, "Because we are here, we matter."
For me, residing in the space of authenticity is positively luminous, but sadly and admittedly, it is not always my first instinct. It can definitely be a struggle to move forward in a space of introspection, connection, and truth when faced with competing demands and others' expectations of me.
I often think about being authentic when people ask me in a job interview, for instance: Tell us about yourself.  As I provide a snapshot of my life as it appears on my resume, I begin to ask myself, is that authentically me?  Do they see the real me?
Recently, after reading the brilliant Untethered Soul by Michael Singer, I began to reflect anew on this question of:  Who are you? Singer articulately explores how we are not our jobs, our names, our histories, how none of these linear descriptors of our identity do justice to the sum of all of our qualities, history, experiences, and promise.  He explores how we are not our thoughts, actions, or feelings but something much greater.
For me, authenticity is the perfect paradox: while it ostensibly asks us to embrace that which makes us unique, truly understanding and appreciating our authenticity connects us to a larger more universal truth.  As Deepak Chopra explains, we are all "spiritual beings having a human experience."  Living authentically allows us to connect to core universal values of love, self-respect, understanding, compassion, and grace in ways that animate us all and infuse our relationships with vibrancy and lustre.
So if authenticity is so amazing both personally and for us as a collective community, why is it that we hide who we truly are?  Because to be authentic requires us to be completely honest and complete honesty can be extremely scary.
Martha Beck, columnist for O, The Oprah Magazine and author of Steering by Starlight, appeared on Oprah's Lifeclass: Season 1 (fourth webcast) to discuss the power of truth to set us free, sharing that our lives do not have to be what everyone thinks they should be.  She encouraged us to be the happiest we have ever been by setting ourselves free, reminding us that as long as we are pretending to be someone we are not, we will not be all that we were meant to be.
In Lifeclass, Martha Beck urged us to share our deepest truths, let our walls down and then others will do the same.  By sharing our deepest truths, we have the power to forge deeper, more authentic relationships.  At the end of the day, she shared that people who love us want to know that loving our truth has brought us great joy.
Sai Baba, a spiritual teacher in India, has often explored the concept that we all have three dimensions: the one you think you are; the one others think you are; and the one you really are.  Wouldn't it be so amazing if we could take the first two dimensions and have them truly connect with the one we really are?  Imagine the boundless possibilities that could emerge upon connecting to our core essence!
For me, a recent example of connecting to my authenticity was recognizing that I was not my profession and in fact, my profession was not the best vehicle through which to express my authentic self.  I am a lawyer, but it is not my calling.  Admitting that my authentic self yearned to work in the entertainment field, in creative endeavours, and then having the courage to state it publicly was the first time I authentically connected to my soul's calling.  Funny enough, my first public declaration of that facet of my truth, happened at a taping of the Oprah Winfrey Show in 2010.
As Oprah so often shares with us, "the only courage you ever need is to live your own dreams."  For me, connecting to my authenticity required me to seize that courage and embark on the path to honor my calling. I am not fully there yet, but I am focused on moving in that direction, small step by small step.  In my efforts to connect to my authenticity, I discovered that the people who truly love me, including my parents and friends, have been thrilled to know that embracing my truth has brought me such joy.
By being authentic, we take responsibility for our own lives and as Oprah shares rise into our best selves.
In honor of The Daily OWN and its weekly call to action, here are 3 challenges we can all undertake this week:
Introduce yourself to someone new by describing a part of you that gives them a glimpse into a facet of your authentic self.
Share a truth, big or small, with someone you love and trust.
Do something you love and that makes your heart smile.  In that space of enchanting joy brought on by kindness and grace, we can all connect to our authentic selves.
Welcome to week nine of our O You 2012 Boot Camp Challenge.  Today, during the authenticity week challenge, let's take the time to connect to our true selves, listen to our hearts, and move forward in the world in the knowledge that our authentic selves are incredible!
***Prasanna Ranganathan, an original OWN Ambassador, is a lawyer and project manager, writer, ultimate Oprah fan, and television, film, and Academy Awards (Oscar) aficionado. Prasanna is pop-culture personified. When he's not out bringing JOY to the world or scooping up the lessons at OWN, he can be found on Twitter @PRanganathan.