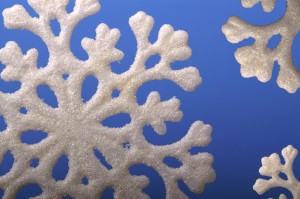 The holidays evoke special memories for everyone and each of us have our special little triggers that tend to ignite our own Christmas spirit. Although you can hear Christmas music in my home year-round, there are many things that kick off the holidays. For some of us it may be hearing mom caroling and singing "Oh Come All Ye Faithful" as she bounces around the house, or carefully placing holiday décor in all the plants, putting up the tree (sometimes as early as late October- don't judge me) and baking our classic Christmas cookies and holiday fudge. The traditions are countless in our home. Although no Christmas is complete without pulling out my favorite childhood ornaments, I was surprised to find my Christmas spirit in a new way a few weeks ago.
Not wanting to spend a ton of money on new decorations for outside of the house and a bit tired of the same old scenes…I sat down with HUGE pieces of 25" by 30" paper and made gigantic snowflakes. I folded the pieces so tightly and cut away. Some came out better than others, but I realized that as I sat in a pile of tiny white remnants…I had my first REAL Christmas smile.
If you are having a hard time finding the spirit this year, try any of these sure-fire tricks:
Bake cookies – this is the simplest trick and a great excuse to visit the neighbors. No one can turn down a Christmas cookie
Twinkle Time – Prep a thermos of hot cocoa or apple cider, grab a blanket and pile in the car in search of the best lights in town. If you are having a hard time finding some, park on top of a hill and let the lights of the city become your twinkle.
Trim the Tree – even if you already have the ornaments just right, get the family around to string popcorn or cranberries to add a little something special.
Movie Night – this is a favorite in my household. Make fresh popcorn, pop in an oldie (my personal favorite is "It's A Wonderful Life") and grab a seat next to a loved one. Be sure the lights are out and the Christmas tree is a glow!
Game night – pull out Christmas Monopoly or a holiday puzzle and throw on some warm coffee. It is a great way to get caught up with friends and loved ones.
Call an old friend – NO, not and old ex because you are feeling nostalgic. An old friend. Talking to family and friends always makes you feel like your home.
All else fails….make a snowflake!
So as I wish you all the merriest of holidays, I have to ask my fellow OWN sisters and brothers – what ignites your holiday spirit?