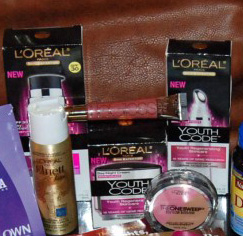 After OYou this year, I felt like Christmas came early and that I had a treasure chest full of jewels and gifts!  It was like I was a kid again…a grown up kind of kid…who loves all of the pampering and the wonderful things that come in pretty packages and make you feel great.  A pile of gifts came from L'Oreal who gave us some youth in a bottle and some sparkle for lives.  For a few weeks, the pretty pile sat on my dresser…just waiting for me to dive in.  Once I did…it was like Christmas all over again.
While I haven't added up all of the 'gems' from OYou, I have taken notice that L'Oreal included over $100 in products…and let me add, in FANTASTIC products.  Among the treasures was a set of their Youth Code line of moisturizers and some makeup too!  Taking all tips to heart as I enter into my early fortys, the Youth Code trio that was tucked in my bag is just amazing.  The day lotion with SPF, the eye and the day and night cream have changed the way that I look!  I swear I think that I am looking refreshed and rested…which is not easy to do as we enter into the stressful holiday season.  Let me assure you…it has nothing to do with the hours that I keep or the amount of sleep that I don't get (I'm working on it, Dr. Oz).  I am sure that with less stress and more sleep plus plenty of water and daily exercise and some deep breaths and meditation might help if I incorporated them into my life, but the Youth Code is a little bit of a secret weapon when I seem to drop off my OWN personal list.  Bob Greene even gives the advice to  "find a good day and nighttime moisturizer for your face" as one of the secrets in his "20 Years Younger" book and L'Oreal helped make that happen.  It's like I've put myself back on my list to take care of myself…and I didn't even know it!
But…that wasn't all!  Add the One Sweep blusher duo and the Le Gloss lip gloss and the travel size Elnett Satin hairspray and I'm not sure that I've ever looked better.  OK…maybe when I was 18 but as a grown up, it's always nice to slow down and pay a little more attention to your OWN self.  L'Oreal reminded me of that by putting a little of their OYou magic into my life.  Thank you L'Oreal…
So, if you are looking at adding a little something to your OWN stocking this year…or even to someone else in your life that you love, be a little indulgent and give them something that will change their life without them really even knowing it.  When you slow down enough to do something nice for yourself or for those you love, it changes the world around you…and sometimes that change can even come from the beauty aisle.