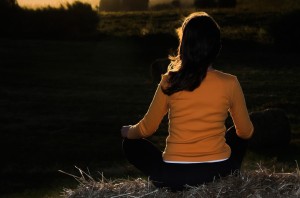 When Oprah.com and Super Soul Sunday mentioned that Deepak Chopra was having a 3 week meditation challenge, I found myself wanting to give it a try.  Meditation has always been something that one day I hope to master.  For me, it's a little like prayer…if I do it at the end of the day, there's a good change that I may fall asleep…and if I do it during the day, there's a good chance I'll not get to that place of peace that you get to…usually right before I fall asleep. So….for this 21-day challenge, I am taking my morning coffee with Deepak and before I open the other doors and windows in my life to let the world flood in, I'm taking 15 minutes to sit, listen, learn and practice mediation with Deepak and in the process, I'm focusing on bringing abundance into my life.  It's been 3 days…and I think it's the most favorite part of my day.
Not every morning has been easy to "shhh…." out the world and thoughts of everything that awaits me when the real work of the day begins…but, I think the gift is in giving myself the time and space to let this into my life…and giving myself that time and space to see things from a different perspective.  If anything, this moment in the morning has helped me consolidate my energy as I go out into the world to face the day. 
So, if you haven't already signed up, I encourage you to give it a try. It's right off of Oprah.com – Deepak's 21-Day Meditation Challenge .  It's not too late to begin your 21 days…each lesson and guided meditation is right there waiting for you.   Here is my own personal  journal entry from today's meditation…just momemts ago…and how today's meditation made me feel…
today, i focus on all things that i want to abundantly flow into my life.  i focus on strength and clarity and love and simplicity and ease….i focus on a little more ease…so that the way might be cleared and i might see a little more light through all the shade.  for i stand not in darkness…just merely shade. once i come out into the sunshine, abundance will shower down on me.
Step out of your own shade…and into a world full of light and abundance.  Find a little time and give that to yourself.  You just might find that what you gain from the experience is more than you ever could imagine!  Namaste!