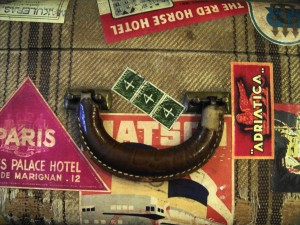 I have always been the sister who loved to create lists.  Being able to check a little box makes almost any task bearable.  In my early twenties I created our family "packing list" that still resides in our files today.  In fact, everyone scurries for it as soon as the suitcases are pulled from the closets.  Having everything you need in one place is just wonderful.  But almost 20 years later, I find that there are a few things that I really should add….and I am going to share those with you!
Cable Ties–  Without the ability to have special locks, I use to worry about airline officials rummaging through my suitcase.  That was until I met plastic cable ties.  You can pick up a container at Home Depot for around $10 and it will most likely last you a long time.  Simply pull together your zipper and slide then tie through both loops and your luggage is locked!  I prefer the colored ones so I can tell if they were removed and replaced.  It brings total peace of mind.  Just be sure to keep fingernail clippers accessible so you can cut them off.
Pashima– Not only does this make a great wrap to keep out the cold, it doubles as a blanket for the airplane.  I never travel without one!
Rume bag– Now this bag became a favorite of mine after last year's O'You conference.  It rolls up easily and is ready for anything.  I always include it only my trips…especially when flying.  I throw it in my purse in case there are a few extra items that I may need to pull from my overstuffed suitcase before checking it in.
Earplugs– You can't always control the noise around you…or can you?  I always travel with a set of earplugs to block out the plane's engine, snoring or the college kids in the hotel room next door.
O Magazine– With all the technology, we forget how great it feels to turn the pages of a crisp magazine.  The best part about traveling with one is that you can tear out the pages you wish to keep and set the rest of the magazine down for someone else to enjoy.  Best magazine to take….O Magazine, of course!
Door Stop– Sometimes when you travel alone it can be hard to sleep when you worry about feeling vulnerable.  Stop by a local office supply store and grab a $5 door stop…it will bring you a little extra added peace.
Purell– Germs are everywhere! But as long as you are armed with hand sanitizer, you can go just about anywhere!
Pillowcase– Sleeping in a hotel can be exhaustingwhen you are trying to get comfortable in a space that isn't your own.  Resting your head is the hardest part…especially if the hotel's cotton count isn't a high priority.   You can't always lug around youe trusty pillow when you travel, but you can bring your own pillowcase!  You will sleep so much easier with a little piece of home.  Just be sure it isn't white so you don't get it confused with the hotel's cases.
Socks– Not only will these keep your feet warm during flights, you have no idea how dirty hotel floors can be.  SERIOUSLY people!  Take a pair just for that reason alone.
Arnica– Pulling around suitcases and oversized purses can fire up all those aches and pains.  My family has been using this french homeopathic medicine for decades and don't travel without it.  You can pick it up at Whole Foods and most grocery stores nowadays.  I use the Boiron brand…the container is only 2.5oz and is perfect for travel!