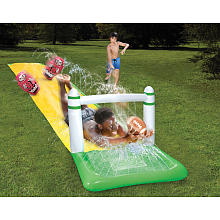 Here are a couple of toys that I would have loved!
NERF Super Soaker Lightning-Storm Blaster – Anyone who has ever been in a water fight knows it is all about the weapon.  Well, this super soaker is not only automated, but it actually holds up to 37 ounces in its clip.  Now that is some serious soaking!  
Fuze Wheel Writers – Okay I love these, but be prepared to let your kids ride their bikes at night.  Simply add these to your bike and spokes and create an awesome light show.  However I think you can only find them on the Amazon and Costco websites.
Lighted Pool Noodles – There is no argument here.  Lighted pool noodles rock for so many reason.  Of course they light up the pool at night creating a great effect, but let's be honest…it is SO a water lightsaber!  Throw them in the pool and let the teens so crazy,  Just be sure to apologize to the neighbors the next day!